RunKeeper for Android update showcases Material Design revamp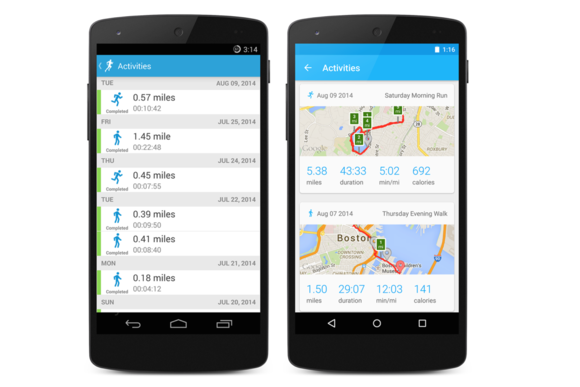 RunKeeper is a rather popular fitness app for tracking your run, walk, or bike adventures.
So it's no small matter when an app with tens of millions of installs joins the Material Design club. RunKeeper's version 5.3.3 update sticks pretty closely to Google's new guidelines, adding in splashes of animation, organizing information into cards, and popping in some brighter colors.
The biggest change comes to the activity list, which breaks out each of your separate jaunts into its own card, with the length of the trek, time spent, and calories burned all detailed. They're also visible on a large Google Map.
Other elements of the new version match this aesthetic, such as the shareable friends tab, which by now should be familiar if you've spent time with any of the top Material Design apps.
Runkeeper promises that the upgrade is not just prettier, but faster too.
The app is free to download, with several in-app purchases for upgrades.
Why this matters: This update is another indication that Google's effort to unify how apps look and perform on Android with Material Design is gaining traction. Even if Android updates remain messy, if more developers get on board the Material Design express then at least your favorite apps and services will have a sense of congruity.