10 Beautiful Leaflet Designs 
Leaflets are often used to promote storefronts, but most of the time, they're fairly uninspiring. The designers and businesses would be surprised to see what actually can be done if they put in a strong effort into creating an attractive leaflet. If you're planning on creating one for your next promotion, here are 10 beautiful designs to draw influence from. These leaflets should spark your creativity whether you're about to start a blog, create a campaign for a small business or generate buzz for an event.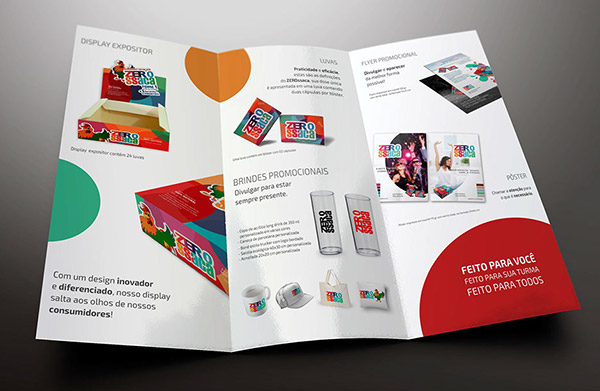 1. Foodland Ontario
This designer was given a task to promote a local Ontario farmer's market. What she did was focus on delivering great content in a beautiful format that would motivate people to start shopping in the farmer's market to prepare for dinner. The result is a leaflet that offered recipes featuring ingredients you could find in the market. It uses a simple design, beautiful photography and a readable font that provides clear instructions for the readers.
2. Crystal Cave Park
In some cases, leaflets are primarily created to provide helpful information. This leaflet for an attraction is ingeniously designed. It features a four-page fold with a diagonal cut away that gets longer as it progresses. It uses simple yet attractive flat design graphics and bold typography that makes it hard to miss the details. The content is organized in a manner so that the information is communicated clearly.
3. Hot Club
This example is absolutely gorgeous and perfectly designed for the theme. It promotes a jazz club in Portugal. To attract attendees, it uses typography with a lot of flair and personality to capture attention. The outside of the leaflet provides all the information for the event while the inside describes the programs with the same typography. The color scheme here works also well with the blue white and orange. It creates a lot of contrast and alternative colors are used as accents for the typography.
4. Event Brochure
Leaflets don't always have to be intricately designed. A simple design that uses the right colors and font can sometimes work better than a complex presentation. This leaflet proves this point perfectly. It is an even four-fold leaflet that uses a different color for each page. This colorful presentation indicates to the reader that each page offers something different without creating graphic elements that compete with each other.
5. BMW Tires
It's always challenging when clients come to you to create a design that really blows them away. This designer was probably put on the same kind of pressure and executed the project beautifully. It uses a leaflet that has a tear away in the cover. The tear away is made to look like a tire marks. When you tear it away, the leaflet opens and presents information about BMW's line of cold weather tires. The design matches the theme perfectly and provides an interactive element that anyone will appreciate.
6. Computer To Plate
This leaflet was created to educate art students to a printing technique called computer to plate. It has an even four page foldable design where the pages of the cover connect to create a large visual banner. Inside the pages, a white background is alternated with a background images to demonstrate the printing technique in action. The leaflet also presents the content in various layouts to draw attention to all the unique facts and tips.
7. WWF
This leaflet was driven primarily by big typography. To focus on the message of nature conservation, it uses a mix of orange and black for the font color. The designer plays with the size of the typography to draw attention and maximize space for the most important points. Another nice touch to this leaflet is the animal silhouettes that are entirely made up of icons that represent technology that hurts the environment (cars, planes, boats, helicopters, etc.).
8. Nick Cave
It's often difficult to get attention for your work as an artist. This artist does a great job of promoting his gallery showing by simply letting his work speak for itself. He uses a five-page leaflet that features high quality photos of his work while providing information for his gallery. He makes sure that every page of the leaflet (front and back) is used to ensure that his art gets the attention it deserves. What's great about the leaflet is that the minimalist layout and use of negative space really helps accentuate the photos.
9. New York Fashion Week
This designer was assigned to create a leaflet for the New York Fashion Week. It uses a great combination of unique typography and unusual colors that surprisingly works well. The background is set in a very light yellow tone to help bring out the typography and the visual elements. The colors provide almost a retro technicolor feel that looks hip. The font in the headline has a diagonal alignment which helps stand out and adds a cool design flair to start the presentation out with a bang.
10. 99U Book Promotional Piece
This is another great example of big typography used in leaflet design. It's one of the largest on the list with a six-page fold out. The entire inner six pages are used to make a statement that challenges the reader about common productivity practices. The outer pages are all used to make different points about the topic as well as provide information about the book. Overall, this design does a great job calling out to the right audience and executes the typography very well.
These leaflets should spark your creativity whether you're looking to start a blog cover or create a promotional piece. There's no one way to design a leaflet and leaflets can do more than just provide the necessary information. The design has a big part in communicating what's important, so don't dismiss the role it plays in helping the leaflet resonate with the target audience.